Turn Waste into Wealth
An Easy Way to Make Fuel Pellets with GEMCO
Small Pellet Mill
Make pellets from sawdust, wood chips, wood shavings, straw, etc. (Download common seen raw materials here!)
Two types available: D-type and R-type. Various driven: Electric engine, diesel engine, gasoline engine and PTO.
Capacities range from 80 to 800kg/h.
Suitable for home use, small plants, farm, etc.

GEMCO has various kinds of small pellet mills for you to choose. See details in the list below.
Electric Pellet Mills
APPEARANCE
structure
MODEL
POWER
CAPACITY (kg/h)
WEIGHT (nw/gw)
PACKING SIZE (mm)
D type
ZLSP-D 150B
5.5kW
50-100
95/110
800x450x700
ZLSP-D 200B
7.5 kW
80-120
200/230
1050x480x930
ZLSP-D 230B
11 kW
120-200
290/320
1180x540x1000
ZLSP-D 260B
15 kW
160-250
320/360
1240x540x950
ZLSP-D 300B
22 kW
250-400
350/380
1300x560x1100
D type
ZLSP-D 150C
5.5kW
60-110
105/125
1000x480x780
ZLSP-D 200C
7.5 kW
80-120
210x230
1050x550x830
ZLSP-D 230C
11 kW
120-200
290/320
1200x560x950
ZLSP-D 260C
15 kW
160-250
340/370
1240x560x1000
ZLSP-D 300C
22 kW
250-400
425/465
1300X620X1100
R type
ZLSP-R 200B
7.5kW
80-120
215/245
950x450x1050
ZLSP-R 300B
22 kW
250-350
540/575
1350x750x1400
ZLSP-R 400B
30 kW
350-450
770/810
1400x800x1450
ZLSP-R 550B
55 kW
500-800
1770
2300x750x1850
Diesel Pellet Mills
APPEARANCE
structure
MODEL
POWER
CAPACITY (kg/h)
WEIGHT (nw/gw)
PACKING SIZE (mm)
D type
ZLSP-D 150A
8HP
50-100
180/220
100x500x750
ZLSP-D 200A
15 HP
80-120
210/240
1460x750x900
ZLSP-D 230A
22 HP
120-200
280/310
1560x850x1100
ZLSP-D 260A
30 HP
160-250
330/360
1200x500x1070
ZLSP-D 300A
55 HP
250-400
410-450
1220x600x1000
R type
ZLSP-R 200A
15HP
80-120
320/350
1460x950x1100
ZLSP-R 300A
41 HP
250-350
850/890
1100x700x2480
ZLSP-R 400A
55 HP
350-450
1010/1050
1300x800x2600
Gasoline Pellet Mills

| APPEARANCE | structure | MODEL | POWER | CAPACITY (kg/h) | WEIGHT (nw/gw) | PACKING SIZE (mm) |
| --- | --- | --- | --- | --- | --- | --- |
| | D type | ZLSP-150Q | 10kW | 90-120 | 180-220 | 1000x500x750 |
PTO Pellet Mills
APPEARANCE
structure
MODEL
POWER
CAPACITY (kg/h)
WEIGHT (nw/gw)
PACKING SIZE (mm)
D type
ZLSP-D 150P
≥8 HP
50-100
90-110
900x540x1020
ZLSP-D 200P
≥15 HP
80-120
130/150
1000x540x1020
ZLSP-D 230P
≥22 HP
120-200
175/200
1000x540x1020
ZLSP-D 260P
33 HP
160-250
235/255
1050x540x900
ZLSP-D 300P
41 HP
250-400
305/325
1100x540x1000
Why should I choose GEMCO pellet mill?
GEMCO has been devoted itself in pellet mill industry for a long time with rich experience in pellet mill developing, manufacturing and raw material processing. Over years of research and develop, GEMCO pellet mill has been improved with high quality, stable running and low price. GEMCO has large quantity of customers all over the world.You don't need to worry about its operation, since we can teach you on how to make your own pellets.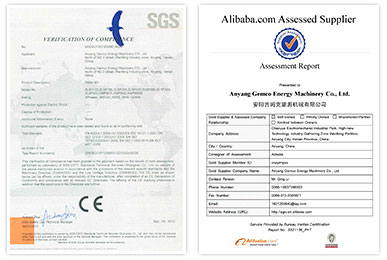 Which type of pellet mill can I choose?
Depending on working principle, the small pellet mills can be divided into die rotating type (D-type) and roller rotating type (R-type). While depending on power source, they can be divided into electric motor type (ZLSP B series), diesel engine type (ZLSP A series), PTO type (ZLSP P series) and Gasoline engine type (ZLSP Q series).
How to distinguish D-type and R-type small pellet mills?
D-type

R-type
Which one is suitable for me, D-type or R-type small biomass pellet mill?
D-type small pellet mill

is often used to make pellets from softwood like pine, spruce, cedar, eucalyptus, poplar or crop waste like straw, stalk, peanut shell, rice husk, bamboo powder, and so on. It has high productivity and low price. So it is suitable for people who make pellets for own use.

R-type biomass pellet mill

has better performance for hardwood like beech, birch cypress, elm tree, hickory, oak, etc. than D-type. It can make sawdust pellets with better quality, higher density and smoother surface, and all its parts are better than D-type but also with higher price. It is often good choice for people who want to make pellets for sale.
GEMCO pellet mill after-sales service guarantee!
GEMCO offer 1 year quality guarantee to the whole machine of our small pellet mills from the date when the cargo is shipped.
If you need our advices on the pellet production, or you have special requirements on the pellet mill or the spare parts, our accomplished engineering team is willing to help you and give the professional suggestion and comprehensive guidance within 24 hours.
To lower your shipping cost, you would better to order several sets of spare parts along with the cargo in case the original ones wear out. Also, the

moisture meter

is available to choose. If you need

spare parts

after you have used the pellet mill for some time, you can also get the replaceable ones from us!
If you're interested in our products or have any questions, please do not hesitate to contact us!