Build Your Own Complete Pellet Plant Now!
with GEMCO
Complete Pellet Mill
Complete pellet mill also called ring die pellet mill.
We adopt different textures for ring die mold depending on different raw materials
By connecting several sets of ring die pellet mills, your pellet mill plant can produce as high as 20ton/h or more.

BPM35 Ring Die Pellet Mill

BPM420 Ring Die Pellet Mill

BPM508 Ring Die Pellet Mill

Ring Die

Ring Die
There are 3 models of complete pellet mill. See the below specifications
BPM35/420/508
Model
Capacity
(kg/h)
Power
(kw)
Dimension
(mm)
Weight
(kg/h)
Pellet Energy
Consumption
Main Motor Speed
(r/min)
BPM35
500-800
30*2+0.75+0.75
2150*1950*1900
2200
BPM420
1000-1500
90+1.5+3
1000*480*780
3400
≈85℃
1000
BPM508
1500-2000
110+1.5+3
1000*500*750
4500
≈85℃
1000
Why choose complete pellet mill?
Biomass pellet, as a kind of clean and environmental friendly renewable energy resource, is widely used for central heating in hotels, schools, hospitals, districts, residential heating, power generation in biomass power plants, and also BBQ or cooking.
Some pellet manufacturers produce pellets for own use, such as the furniture or wood-working factories who have sufficient and regular supply of biomass by-product. Some others produce pellets to sell to customers in the supermarket.
Pellet market:
Pellets making has been proved to be one of the most promising and profitable business nowadays because of its skyrocketing users. As reported by Biomass Magazine, the global pellets market is expected to grow from $4 billion to $9 billion in the next seven years (from 2014-2021).
01

In the largest pellet market Europe like UK, Chili, Bulgaria, Spain, etc., the pellets consumed in 2013 were 20,000,000 tons for both residential and industrial heat, and this data is predicted to reach 28,000,000 tons by 2015 and 42,000,000 tons by 2020.

02

North America which include USA, Canada, and Mexico, etc. consumed 4,000,000 tons of pellets 2013, and is conservatively estimated to grow 20% in 2015, which is 5,000,000 tons.

03

While in Asian market like Thailand, Vietnam, Indonesia, etc. it is also expected to grow from 1,000,000 tons in 2013 to 3,000,000 tons in 2015 and possibly 7,000,000 by the year 2020. Other markets are also increasing in recent years.
How to build your own complete pellet mill?
The complete pellet mill includes following processes: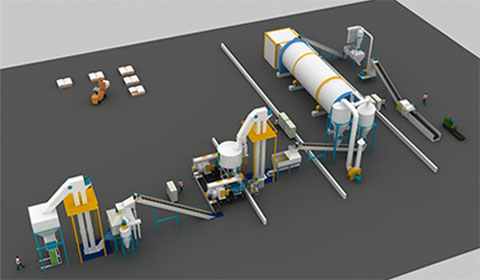 So if you want to build your own complete pellet mill plant, you need other equipments like crusher, conveyor, dryer, cooler, pellet packing machine, etc. besides pellet mill.
You needn't worry about the installation, since GEMCO engineers can help you to install all equipments on-site.
GEMCO has built many complete pellet mill plants abroad:
Complete Pellet Plant in Malaysia

Complete Pellet Mill Plant 2TPH

Complete Pellet Mill Plant in Vietnam

Complete Wood Pellet Plant in Australia
If you're interested in our products or have any questions, please do not hesitate to contact us!