drying machine
Air Drying Machine
GC-DL drying machine is equipped with a hot air boiler, which is suitable for drying raw materials with moisture content less than 20-25% to the best pelletizing moisture of about 10%.
If biomass raw material moisture content is much higher than 25%, it needs to be dried two or three times to achieve the demanded moisture content for wood pellet maker.
The air flow drying machine is a pre-treatment equipment always with a biomass pellet mill.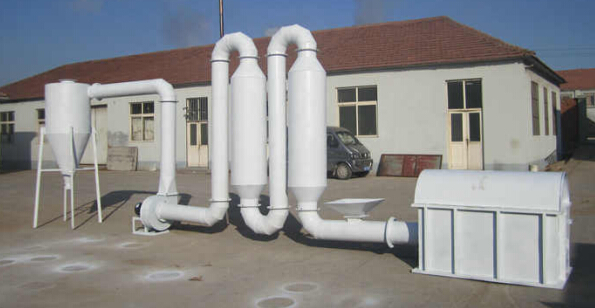 Model
GC-DL-4
GC- DL -7.5
GC-QL-I-11
Capacity(Kg/hour)
200-250KG
400-500KG
500-700KG
Size of Input Material
(Diameter)
< 3mm & < 5mm
< 3mm & < 5mm
< 3mm & < 5mm
Temperature of Hot Air
180°C~250°C
180°C~250°C
180°C~250°C
Consumption of Wood Waste
35-50 kg/h
45-60kg/h
50-75kg/h
Power
(Centrifugal Fan)
4kw
7.5kw
11kw
Net/Gross Weight
1760kg
2100kg
2400kg
Dimension(m)
9×2×3.3m
13×2×3.3m
17×2×3.3m
Air Drying machine features
The air drying machine adopts hot flue eject and self-priming device that can absorb material automatically. Because of the fast flow rate of hot air, the air and material can mix fully to achieve best drying result.
It also adopts hot flue drying system with low power and low energy consumption to be fast to dry raw material. The drying yield depends on raw material moisture content.
For example, if the biomass moisture content is 25%, this air drying machine can dry it to pelletizing requirement of about 10% in one time. This drying machine not only decreases labor intensity, but also cuts down drying cost.


Drum Dryer Machine
The rotary drum dryer machine is usually used in complete larger pellet plant together with large biomass pellet mill because of its high capacity.
It consists of feeding system, main body, ducting system and collector system. It need match stove smoke and air with high temperature produced by the stove are the heat source medium. When material enters the drum through the feeder, heat exchange between material and the hot air begins. Material will move along the bent plat on the wall of the drum by the effect of rolling and introduced air, which is called the concurrent flow drying technology.




| Model | Φ0.8×10m | φ1.2×10m | φ1.5×11m | φ1.8×11m | φ1.8×14m | Φ2.0×15m |
| --- | --- | --- | --- | --- | --- | --- |
| Air fan power | 15kw | 22kw | 30kw | 45kw | 45kw | 45kw |
| Inner diameter | 800mm | 1200mm | 1500mm | 1800mm | 1800mm | 2000mm |
| Length | 10m | 10m | 11m | 11m | 14m | 15m |
| Temperature of inlet air | 180-350℃ | 180-350℃ | 180-350℃ | 180-350℃ | 180-350℃ | 180-350℃ |
| Temperature of outlet air | 90-100℃ | 90-100℃ | 90-100℃ | 90-100℃ | 90-100℃ | 90-100℃ |
If you're interested in our products or have any questions, please do not hesitate to contact us!
Contact Us
Anyang Gemco Energy Machinery Co., Ltd.(office)
Add: 19F, Suite B, Global Trade Mansion, Wenfeng Avenue, Anyang, Henan, P.R.C.
Zip Code: 455000
E-mail:
info@biopelletmill.com
Tel: (86) 372 5965148
Fax: (86) 372 5951936