alfalfa pellet mill
Alfalfa - Whether You Have Throw away?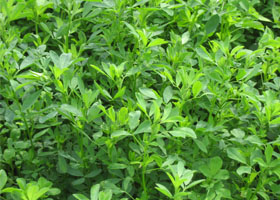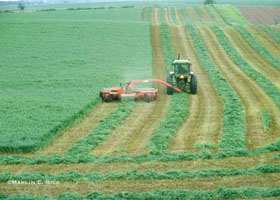 To make alfalfa pellets, the first and most important thing you have to own is an alfalfa pellet mill. If you want to make pellets for sale, the machine with large yield will be suitable. But if your goal is for own use, a small alfalfa pellet machine can meet your need.
Roller-Rotating Alfalfa Pellet Mill
Roller-rotating pellet mill for large scale production.
Die-Rotating Alfalfa Pellet Mill
Die-rotating pellet mill for small scale production.
Take GEMCO the leading manufacturer and supplier of China as example, we can provide you the roller-rotating pellet mill for large scale production and the die-rotating pellet mill for small scale production both. They are same in appearance and operation. But the roller-rotating one has a much larger capacity than the die-rotating one in unit time. You can choose one of them according to your need, and operate each of them easily. Both of the two will work efficiently and productively for you.
How to make alfalfa into pellets?
When you are going to pelletize, the first step is drying alfalfa until the moisture is about 15%. The wetter or dryer material will affect the final quality of alfalfa pellets. You can resort to a drier, so that you can get the ideal moisture quickly. Or you can dry it naturally.
Adjust moisture of alfalfa
The second step you have to do is grinding alfalfa. The original form of alfalfa is not appropriate for the alfalfa pellet machine to process directly. When you grind it to small powders, the pelletizing rate and pellets quality will be better.
Alfalfa after grinding
Then the most important step is coming. Put the alfalfa to the feeder of alfalfa pellet mill, they will be compressed to columned holes on the die and discharged from the machine. Thus the whole procedure is finished. But take care of the high temperature of biomass pellets. They will burn you if any direct touch happens. Wait a minute, then you can check your own alfalfa pellets.
Alfalfa pellets discharged from feeder
Not only available for alfalfa pelletizing, our machine can also process many other materials. If you are interested in our alfalfa pellet mills, please contact us.
If you're interested in our products or have any questions, please do not hesitate to contact us!
Contact Us
Anyang Gemco Energy Machinery Co., Ltd.(office)
Add: Suite A, 4 / F Jinhao Business Bld., Renmin Rd., Anyang, Henan, P.R.C.
Zip Code: 455000
E-mail:
info@biopelletmill.com
Tel: (86) 372 5965148
Fax: (86) 372 5951936