Biomass pellets fuel energy refers to the cylinder sticks with 6-12mm diameter made by pellet mill from various kinds of biomasses. As a world leading pellet mill manufacturer, GEMCO has developed biomass pellet mills for saw dust, wood shaving, wood chips, alfalfa, straw, peanut shell, bagasse, bamboo, grass, rice husk, waste paper, etc. that can make best pellets fuel.
Biomass pellets fuel can be used in power plants, residential heating, central heating for school, hotel, hospital, etc. It is now very profitable to make fuel pellets.

Biomass pellet mill
 has the magic to make everything become magical pellets energy.
Anything you can think of raw materials, our biomass pellet mills can help you achieve the aspiration of pelletizing. Still hesitating? Act now, how amazing the biomass pellet mill is!

Various Biomass Pellet Mills Show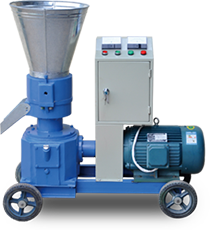 Small Biomass Pellet Mill
Small biomass pellet mill is flat die pellet mill that has small capacity of 50-400kg/h. It is often used at home or for small pellet plants because of its compact size and low price. If used together with a pellet stove, you are able to heat your house with your own cheap pellet fuel!
Large Biomass Pellet Mill(Complete Pellet Mill)
Large biomass pellet mill refers to ring die pellet mill. It is the core part in complete pellet mill plant because of its large capacity: 500-2000kg/h. By connecting several sets of large biomass pellet mills, the whole pellet plant can produce as high as 20ton/h.